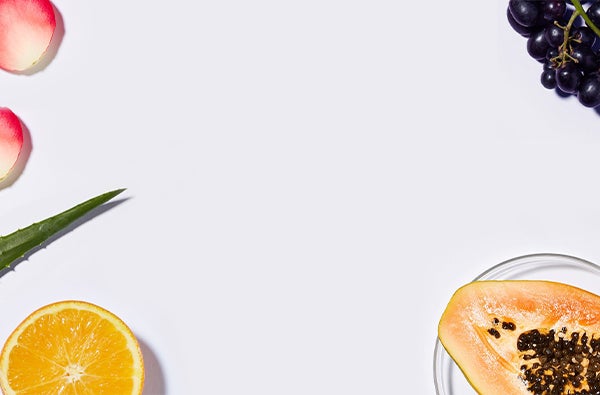 Your customised skincare routine
1. Answer a short series of questions about your skin concerns.
2. Get your customised Andalou regimen that will give you the best results.
3. If your skin concerns change, simply retake the test.
Andalou regime


Every step of an Andalou regime forms part of a holistic whole.
Cleansing your face is one of the most important steps in your skincare regime! Remove dirt, excess sebum build up and makeup with our broad range of natural cleansers. Double cleanse in the evening to remove makeup and environmental build-up.
Our masks and exfoliators work to gentle remove dead skin cells and excess sebum and whisk away surface debris. Featuring natural ingredients that effectively cleanse buildup on the surface of your skin, they can help users of all skin types get glowing skin. Used regularly, Andalou masks and exfoliators can help address a range of common skin concerns including dryness, dullness, sensitivity, and some of the signs of ageing.
Facial toners get rid of leftover oil, dirt and impurities and restore your skin's health. Instantly hydrate, refresh and replenish your complexion from a blend of Fruit Stem Cells and essential nutrients. Whether you're hydrating and refreshing dry skin, caring for blemish prone skin or looking to firm and lift mature skin, there's an Andalou toner to suit your needs. Toners can be also be used throughout the day to refresh and hydrate skin under or over makeup.

Support your skin's natural moisture barrier and target common skin concerns including dryness, dullness, and the signs of ageing with a nourishing facial serum or oil. Lightweight and luxurious, our cruelty-free face oils can help transform your skin for the better and improve its overall appearance. For best results, use consistently and follow with moisturiser.

If the eyes are the windows to the soul, then caring for the skin around your eyes is especially important! The skin around your eyes is one of the most sensitive areas of your face, so it helps to know you can trust our gentle yet effective natural eye creams and serums. Our selection of eye creams treat tired eyes and look to banish puffy skin and dark circles, and can also smooth fine lines and wrinkles and turn back the clock.

Specially formulated to moisturise your skin, calm sensitivity, and boost radiance, Andalou day & night creams can help you unlock your healthiest skin yet. Enriched with our signature Fruit Stem Cells and a range of complementary natural skincare ingredients, our day & night cream collection includes the best moisturisers for different skin types.

You can target specific skincare concerns with our range of proven natural skin treatments. Whether you're looking for effective anti ageing treatments or a skin spot treatment for blemishes, our range delivers real results for various skin types.

Shop by skin concern
What would you like to target?