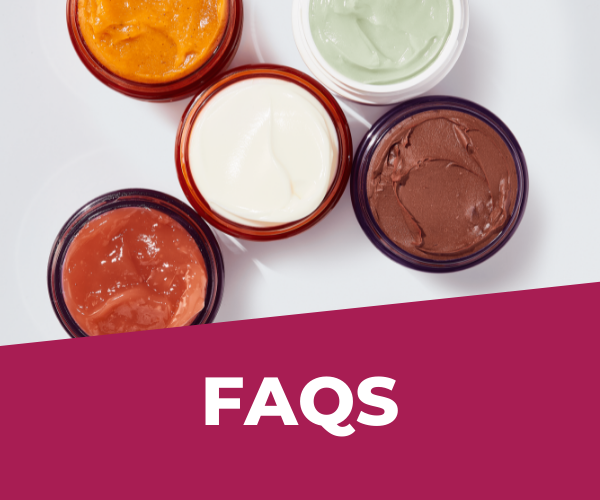 With our formulations being 98% Nature Derived, we're proud to call Andalou a natural brand. We've adopted the Superior Source Ingredients Standard to demonstrate our commitment to using quality and sustainably sourced ingredients.
Our guide to natural skincare ingredients takes a deeper look at our favourite natural ingredients and how we use them to harness their skin-nourishing properties.
We share your concern that cosmetics and personal care products should not be tested on animals. Our company policy clearly states that we do not and will not test our products or ingredients on animals, nor have we asked or allowed others to do so on our behalf. Andalou Naturals is a proud partner of The Leaping Bunny Organisation.
We sure are! Andalou products are both non-comedogenic and hypo-allergenic. Our formulations are always hypo-allergenic for those with sensitive skin and non-comedogenic, so it won't clog pores and the skin can breathe.
We take our responsibility to consumers very seriously, especially those with gluten sensitivity. To guarantee that our products are gluten free, we send everything to be third-party tested by the Food Allergy and Resource Program.
All Andalou cartons, bottles, jars, and tubes are widely recyclable and 100% BPA-free. Packaging is designed to be beautiful, but also to minimise the shipping materials necessary to protect our products during processing and handling. We decided to utilise widely recyclable PET plastic jars and the resin we use does not contain BPA, phthalates, dioxins, lead, cadmium or endocrine disruptors. We encourage our customers to follow local recycling guidelines and packaging when empty.
At Andalou, our commitment to creating true beauty through pure ingredients, innovative formulas, eco-friendly practices, and cruelty free standards guides us in all we do. Every aspect of our brand, our business, and our daily operations is dedicated to environmental responsibility and sustainable business practices and partnerships, taking a stand on issues that matter, and influencing positive change in the natural industry and beyond.
We were the first beauty brand to achieve Non-GMO Project Verified status because we believe that GMO crops and the dependency on pesticides that they create are in conflict with the wellbeing of the planet and of every single person. We believe in a farm-to-bottle connection and value knowing the origin of the ingredients we use. In addition to gathering domestic ingredients, we are proud to promote global sustainability through ethically sourcing fair-trade ingredients from all over the world.
Our products are formulated to be gentle and safe for personal use. However, should there be any question or concern for a specific ingredient or allergic condition during pregnancy or while nursing, we recommend consulting with your physician for a thorough evaluation prior to use.
Our products do NOT contain sulfates, which is the primary cause of damage to colored hair. Sodium laureth sulfate and sodium lauryl sulfate, which are common ingredients in other hair care lines, can strip dyed hair of coloring, fading your hair every time you wash.

Primary packaging methods protect the formulas from sunlight and oxidation prior to purchase. Products are tightly secured and protected within tinted or opaque packaging. Additionally, skincare products are further protected within unit cartons. Normal use and storage will retain product freshness and integrity.
Non-OTC (aka, cosmetic) products are safe to use for 5 years from the manufactured date. We do not have an expiration date on these products but there is a jar icon on each package which communicates the "best used after opening" time frame. For example 12M, suggests using the product within 12 months after opening.
You can determine a product's manufactured date by locating the lot number. Lot codes are found on the primary package (tube crimp, jar bottom, on wrap label, etc.). While it may depend on the product, you can translate most manufacturing lot codes in the following way:
Manufacturing Lot Code Example: 1B01
1 = Numeric representation of the year (2011)
B = Alpha representing month of manufacture (see table
below)
01 = Numeric representing batch number ever made of the
product
1B01 = Manufactured in 2011, February, first batch ever made
of the product
As the 1st beauty brand to achieve Non-GMO Project Verified status, we believe that GMO crops and the dependency on pesticides that they create are in conflict with the wellbeing of the planet and of every single person. In order to achieve this verification, our team worked closely with our manufacturers and suppliers to rigorously confirm that over 200 source ingredients, as well as the manufacturing process for each ingredient, did not include GMOs of any kind.
The Non-GMO Project Verified seal recently received the highest ranking of meaningfulness from Consumer Reports. This is important because the verification process not only confirms that our brand exclusively uses non-GMO ingredients, it also guarantees that everything we print on our packaging is exactly as we say it is. We value knowing where our ingredients come from and are committed sharing that with you.
We are pleased to inform you that we do not use nanoparticle or micronized particle ingredients. Industry definition of nanoparticles is a material measuring less than 100 nanometers, and the definition of micronized is a material measuring between 100 and 200 nanometers.

We offer a unique collection of quality personal care products for caring consumers seeking natural, organic, and cruelty-free ingredients within the Vegetarian Ethic. We currently have over 90 vegan products and 100% of our products are vegetarian.
While the majority of our products are vegan, some of our products contain the amazing benefits of Beeswax, Manuka Honey, and Lactobacillus (probiotic complex). See the list below.
Our Non-Vegan Selection:
Argan + Mint Lip Remedy: Beeswax
Get Started Kit-Brightening: Lactobacillus (yogurt) & Manuka honey
Instant Brightening Face Mask (aka Pumpkin & Honey Face Mask): Manuka honey
Lemon Sugar Facial Scrub: Manuka honey
Meyer Lemon Creamy Cleanser: Manuka honey
Pumpkin Honey Glycolic Mask: Manuka honey
As a proud partner of the Leaping Bunny Organization, rest assured that all of our products are certified cruelty free as well.
Using parabens in shampoo and skincare is a hotly contested subject, with ongoing debates over whether they pose a risk to health or not. With our dedication to sourcing natural ingredients, we have chosen to make all of our products paraben-free at Andalou Naturals.

Founded in 2010 by Stacey Kelly Egide and Mark A. Egide, Andalou Naturals was acquired by BWX in 2017. Dedicated to accelerating the natural beauty revolution, BWX is based in Melbourne, Australia and California, USA, and is the proud owner of 6 industry-leading natural brands.

Retinol, a Vitamin A derivative, is widely used in skincare to increase cell turnover, which can help to improve the appearance of fine lines and wrinkles. With our dedication to using natural ingredients at Andalou, instead of retinols, we use an efficacious and nature-derived blend of resveratrol and CoQ10 in our Age Defying range.
Resveratrol is a potent antioxidant that helps to shield skin against damage caused by free radicals. The resveratrol we use in products, like our well-loved Andalou Naturals Deep Wrinkle Dermal Filler, is naturally sourced from mulberries, purple grape juice and red grape skins.
CoQ10 is derived from fermented vegetables and plays an important part in providing cells with the energy they need to function. When formulated together as resveratol CoQ10, these potent natural ingredients boast impressive protective, regenerative and smoothing properties.
All of our Andalou Naturals shampoo and conditioner collections are free from silicone and sulphates. This is an important part of our dedication to creating the very best sustainable, efficacious and natural beauty products.
For a full list of the natural ingredients we use in our formulations, take a look at our Ingredient Glossary.
Part of our ethos when it comes to science-backed natural skincare is our belief that Andalou products shouldn't just be used, they should be experienced! Because of the natural ingredients we use in our nourishing formulations, many of our products are delicately fragranced. You can rest assured that our refreshing scents are 100% natural and enhance the sensory experience of using our products on your skin.

Our advice on how to use Andalou products varies according to the product you're using and its specific ingredients. When buying any Andalou Naturals shampoo or skincare product, our tailored advice on how and when to apply for best results will be printed clearly on the packaging.
As a general rule, skincare should be applied in the order of cleanser, a face mask if using one, toner, serum, and finally moisturiser. If using our Brightening collection in the morning, make sure to use an SPF. We also recommend applying our Brightening Pumpkin Honey Glycolic Mask in the evening when possible, as the gently exfoliating AHAs it contains can leave the skin slightly more sensitive to sunlight.
Andalou Naturals products are proudly made in the United States of America, where we've been based since we were founded in sunny California back in 2010.

All of our Andalou products are born, bred and manufactured in the United States. In 2010, Stacey Kelly Egide and Mark A. Egide founded Andalou in Novato, California, and we're proud to have kept the production of our natural skincare in the States ever since.

CannaCell FAQs
Andalou Naturals CannaCell® products are Non-GMO Project Verified, Gluten Free Verified, Sustainably Sourced, Vegan, and Cruelty Free.
Yes. Made with bioavailable vegan ingredients to be gentle and effective for all skin and hair types. No THC, No Gluten, No Phthalates, No Sulfates, No Silicones, No Parabens, No Worry.

Hemp is a fiber rich variety of the Cannabis Sativa plant species. Hemp is legalized in the United States. It has undetectable levels of THC or CBD, is non-psychoactive, and has NO recreational use.
Hemp is fast growing, sustainable, and typically grown in the northern hemisphere. It has a wide variety of commercial uses including fiber, textiles, paper, hemp seeds, and hemp seed oil.
CannaCell is superpowered cannabis sativa antioxidants cultivated from hemp stem cells. Our proprietary CannaCell Hemp Stem Cells are naturally occurring phytocannabinoids extracted from the mature stalk of the hemp plant. Superpowered antioxidants help counteract free radicals, oxidative damage, sun exposure, pollution, and premature aging.
Grown and procured in Northern Italy, our cannabis sativa stem cell culture is gently extracted into lecithin liposomes at room temperature. These unique hemp stem cell liposomes help maintain ingredient stability during formulation and help deliver maximum efficacy when applied topically.
Hemp Stem Cells contain no cannabinoid molecules, including THC and CBD. CannaCell hemp stem cells meet Andalou Naturals Superior Source standards of non-GMO, gluten free, sustainably sourced, vegan, and cruelty free.
Hemp seed oil is a nourishing complex of proteins, nutrients, and minerals, rich in vitamins E, C, B1, B2, B3, B6 with the perfect ratio of 3:1 omega-3 and omega-6 fatty acids for increased oxygenation and hydration. Hemp Seed Oil is antibacterial and can help calm and soothe for improved skin defense. It has moisture retention properties that support skin's barrier function to protect against environmental stressors. Hemp seed oil is non-psychoactive with no detectable levels of THC or CBD.

No. Hemp Stem Cells and Hemp Seed Oil contain no cannabinoid molecules, including THC and CBD.

No. The products do not contain THC or CBD.
Like all Andalou Naturals products, CannaCell personal care products are formulated for topical use only and are not intended to be ingested. If you are concerned about the safety of a product we recommend consulting with your physician.

Our products are formulated to be gentle and safe for personal use. However, should there be any question or concern for a specific ingredient or allergic condition during pregnancy or while nursing, we recommend consulting with your physician for a thorough evaluation prior to use.