When it comes to anti-ageing skincare ingredients, few have generated as much buzz within the beauty space as Resveratrol. With good reason: Resveratrol has a seemingly endless list of skin benefits including fighting free radicals, targeting the signs of ageing, and helping reduce fine lines and skin wrinkles.
Now found in virtually everything from creams and serums to toners and masks, this 'unicorn ingredient' has snuck into the daily skincare routine of many beauty buffs around the world. But with so many different options on the market, it can be difficult to know whether Resveratrol is merely hype or a genuine skincare hero. Below, we give you the full rundown on this skincare ingredient and recommend our top skincare products containing Resveratrol to try.
What is Resveratrol?
Resveratrol is a naturally occurring chemical that many plants produce to fight off bacteria, fungi, and microbial attacks. Common sources include the skin of red grapes and blueberries, pistachios, and your favourite red wine (yes, really!). In other words, you'll usually find it in antioxidant-rich food sources that are often at the top of the list of ingredients that offer anti-ageing and other skin protective properties.
Resveratrol has become a potent, shelf-stable substitute for superfood skincare ingredients like blueberries, raspberries, and goji berries.
How Resveratrol works
Put simply, Resveratrol works by expanding constricted blood vessels and helping improve blood flow and reduce inflammation, swelling, and irritation. Its antioxidant properties also allow it to effectively fight free radicals and combat cellular damage they cause to skin, including sun spots, pigmentation, and other signs of ageing skin.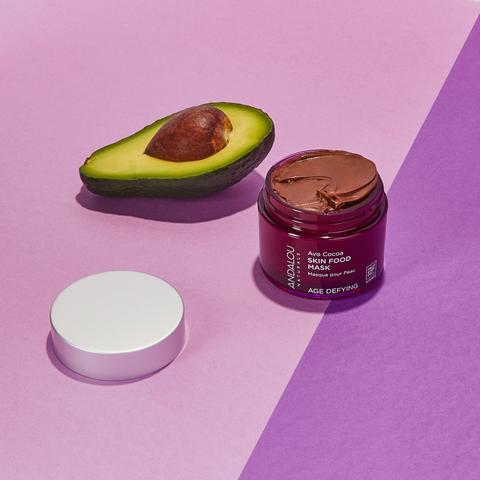 The benefits of Resveratrol for skin
So, what does Resveratrol do for skin? A true powerhouse ingredient, Resveratrol has many benefits for your skin.
Resveratrol offers a range of health benefits including anti-inflammatory, anticarcinogenic, cardioprotective, and neuroprotective benefits. All of these mean that incorporating Resveratrol sources such as grapes and red wine into your weekly diet can have a significant impact on your long-term overall health.
As a bonus, you can also expect to reap a range of Resveratrol skin benefits when applying the ingredient topically to your skin, including: 
Reduced puffiness

 

Smoothed wrinkles and fine lines

 

Enhanced collagen and elastin production

 

Revitalisation of your overall skin tone and texture

 

Free radical stabilisation

 
Better yet, when regularly applied to your face and neck, Resveratrol can form a skin protectant barrier that helps rebuff environmental aggressors. From fighting pollutants and sun damage to calming the irritation caused by dry or cold air, Resveratrol cream benefits are far more than just skin deep.
Skincare products with Resveratrol 
Now that you know all about the benefits of Resveratrol, it's time to add this potent ingredient to your top shelf. The best brand of Resveratrol to buy is one that is backed by extensive research and testing, and is clinically proven to give significant, lasting results. Andalou Naturals products containing Resveratrol are proven to yield noticeable results for most skin types with regular use. Read on to discover our top picks from our Resveratrol-rich range.
Want to learn how to rejuvenate skin overnight? Simply pop on this rich night cream before bed and wake up to more even, uplifted skin tone and velvety-soft skin. With our signature Fruit Stem Cell Complex and Goji glycopeptides, this cream may also help reduce fine lines with regular use.