We all know the important role Vitamin C plays in our wellbeing, but are you aware of the skincare benefits of Vitamin C? From Vitamin C serum to hydrating creams and lotions, this natural skincare ingredient has become a staple of top shelves around the world. 
In this article, we answer: 
1. What Does Vitamin C Do for Skin?
The great news is that Vitamin C is suitable for skin of all types, tones and ages. Used correctly, this natural antioxidant powerhouse delivers a range of skincare benefits. 
2. The
Benefits of Vitamin C
 for Skin
Using Vitamin C for skin can help with a range of skin concerns, from dullness to uneven skin tone and fine lines. 
Using 
Vitamin C for skin
 can reduce dark surface spots
Thanks to its high antioxidant content, with regular use Vitamin C can help to reduce dark spots and lighten the skin, leaving you with a brighter, more even complexion. 
If you're prone to discolouration, redness or dullness, Vitamin C skincare can calm puffiness and help to even out your skin tone. 
Vitamin C skincare
helps to protect the skin from pollution
Every day, our skin is exposed to environmental aggressors such as smoke, exhaust, chemical fumes, and other air pollutants. These environmental factors can cause oxidative damage to the skin and result in premature ageing. Vitamin C helps to shield your skin from this damage. 
Vitamin C benefits
 skin by boosting hydration
This hardworking vitamin also works to strengthen your skin's barrier and seal in moisture. The result? Hydrated, healthier-looking skin.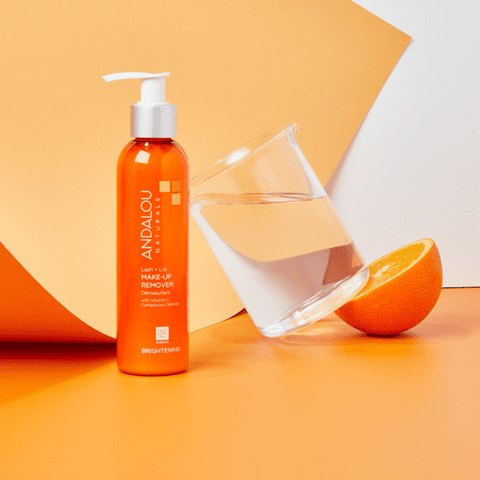 3. Using 
Vitamin C for Skin
: Ingredients to Avoid
While Vitamin C is gentle and generally safe for all skin types, it's important to remember that it's still technically an acid. This means that it can disrupt your skin's pH levels if it's combined with other acids, leaving skin feeling irritated, dry or sensitive.  
If you're unsure of what other ingredients to avoid when using Vitamin C skincare, here's a list of those that don't interact well:  
BHA aka salicylic acid 

 

Niacinamide 

 

Benzoyl peroxide, which can cause Vitamin C oxidation and make the ingredient less potent 

 
You don't have to completely avoid the above ingredients if you want to add Vitamin C products to your routine; you just need to use them strategically. If you want to continue using acids and actives to exfoliate and refine your skin, apply them at an alternate time to your Vitamin C skincare products. We recommend saving active ingredients for your nightly skin care routine and applying Vitamin C in the morning. 
If you also use products containing retinol, we recommend applying them every other day and skipping the Vitamin C products on those days all together. This is because retinol and Vitamin C can counteract one another and dry out the skin if applied at the same time.  
4. When Should You Use Vitamin C for Skin?
It's best to apply Vitamin C in the morning. The vitamin loses effectiveness when it's exposed to light, so give it a minute to absorb before heading outside. 
To make the most of Vitamin C, we suggest applying your skincare products in order of the thinnest consistency to the thickest. 
Skincare routine: how to use
 Vitamin C serum
 and more
For bright, radiant skin, here's when to use Vitamin C in your skincare routine: 
Top Tip: Once a week, treat your skin to a brightening face mask like the Brightening Pumpkin Honey Glycolic Mask