If you have naturally oily skin, it can sometimes feel like you drew the short straw. You might be prone to breakouts or have an oily sheen on your face, making it look shiny in certain types of lighting, especially in evening photos. Luckily, we're here to help with our 'how to get rid of oily skin' guide! In this post, we clear up some of the confusion around the best skin care routine for oily skin. There's no reason why your complexion can't be balanced and glowing, even if it tends to produce a little extra oil from time to time.  
What is oily skin?
Oily skin is perfectly natural. In fact, it's necessary. If your skin didn't naturally produce oils, then it would crack, leading to painful sores and infection. Dry skin is associated with a range of painful conditions, including eczema, dermatitis and psoriasis. 
Sebaceous glands in the skin produce a compound called sebum. Ideally, the body should only produce enough of this compound to keep the skin healthy. However, some people produce an excess of sebum that can leave their skin looking shiny. 
What causes oily skin? 
The causes of skin oiliness fall into three broad categories: genetics, ageing and environmental factors. 
Genetics: some people have naturally oily skin from a young age because of highly active sebaceous glands inherited from their parents. 

 
Age: Sebum production tends to increase during puberty and the teenage years, causing breakouts and acne, before dialing back a little in adult life.

 

Environment: There are a host of environmental factors that contribute to your skin's oiliness. These include using the wrong skincare products, and, ironically, 

skipping on moisturisers

.

 
How to get rid of oily skin 
If you have oily skin, don't panic! You can do plenty of things to help control it. Here's a rundown of the best products for oily skin that you should consider using. 
Choose a face wash for oily skin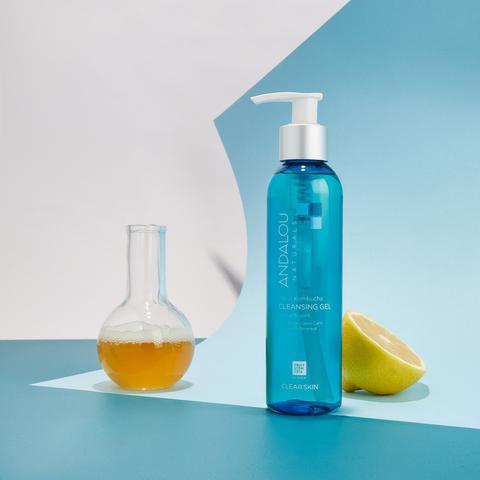 The purpose of face washes is to help unclog pores, remove excess oils and help prevent breakouts.   
Our Clear Skin Kombucha Citrus Cleansing Gel does this and more, making it a strong contender for the title of best cleanser for oily skin. Suitable for use both morning and night, with the help of purifying Willow Bark and cleansing Aloe Vera Polysaccharides, this face wash for oily skin clears away excess oil and dry, dull surface skin cells.