Shea butter has been used in balms, foods, traditional medicines, and soaps in its native Africa since the 14th century and is now a core ingredient in many skin and hair care formulas. A true gift from the earth, the shea butter benefits for hair and skin are varied and plentiful. From how it's made, to how to use shea butter for hair, here's everything you need to know about one of our favourite nature-derived ingredients here at Andalou.
What is Shea Butter?
So, what is shea butter made from? A creamy, solidified oil that melts on contact with the skin, shea butter is derived from the nut of the magnifolia tree, grown in West Africa. These shea nuts are dried, ground and roasted until they form a viscous solution. When water is added to this solution, the oils separate and can be removed. This oil then solidifies to form the shea butter that we recognise from our hair and skin care products.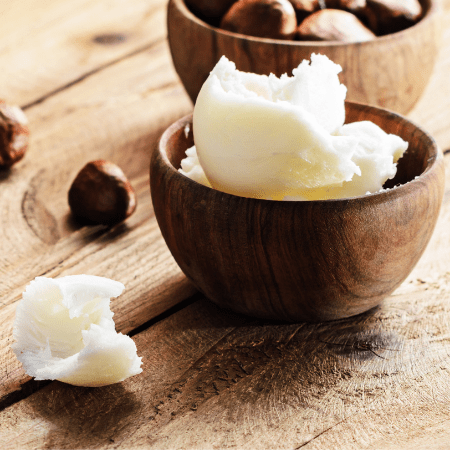 Rich in ultra-hydrating linoleic and oleic fatty acids and vitamins A and E, shea butter for hair and skin melts at body temperature, making it a great moisturiser. While it can be used in its natural form, raw shea butter is commonly formulated into skincare and hair products to supercharge their hydrating and nourishing properties. The shea butter for skin and hair that we use at Andalou is organic and fair trade, so that you can feel good about looking good!
What is Shea Butter Good For?
Shea butter benefits for hair
Softening: Products like shea shampoos and conditioners leave hair feeling softer, particularly in those with curly locks.
Hydrating: Shea butter not only moisturises hair, but acts as a sealant to keep moisture locked in for longer. These hydrating properties also help to tame frizz and flyaways.
Reduces scalp irritation: Using shea butter for hair restores moisture to a dry or irritated scalp, helping to reduce dandruff.
Prevents hair breakage: The high fatty acid content in shea butter means that it's able to easily penetrate each strand, strengthening hair to help protect against breakage.
Shea butter benefits for skin
Suitable for sensitive skin: Low in the proteins that trigger allergic reactions to nuts, low on the comedogenic scale, and free from skin-drying chemicals, most skin types will find that shea butter suits them well.
Moisturising: A rich blend of fatty acids makes shea butter a great hydrator for both skin and hair. The linoleic and oleic acids found in shea butter absorb quickly and balance each other out, leaving skin moisturised with no greasy residue.
Antioxidant properties: Shea butter is rich in vitamins A and E, which may help to promote antioxidant activity, protecting the skin from free radicals.
Soothing: Thanks to its gentle and hydrating formula, shea butter can help to soothe skin that's prone to irritation.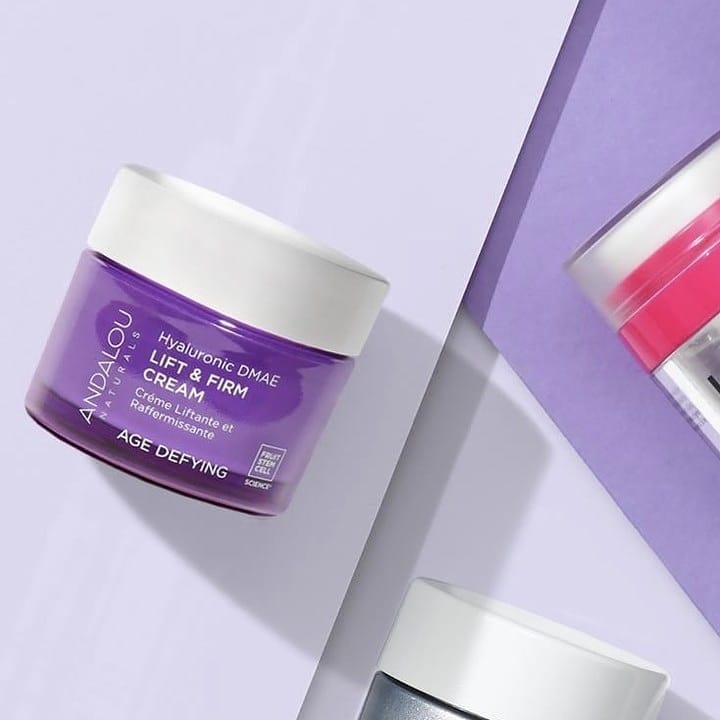 Our Shea Butter Products
Shea butter for skin
While shea butter can be applied to skin in its raw form, the easiest way to add it to your regimen is to find a cream with added shea butter benefits. At Andalou, we have two nourishing shea butter moisturisers to choose from.
Anti-ageing shea butter moisturiser
Boasting a blend of resveratrol CoQ10, fruit stem cells and hyaluronic acid to help support collagen production in mature skin, our Age Defying Hyaluronic DMAE Lift & Firm Cream is enriched with shea butter for a truly decadent moisturising experience.