From brushing your hair 100 times before bed to rinsing with rainwater, there are plenty of old wives' tales that claim to hold the secret on how to grow hair faster. While there's no magic solution for longer locks, by using the right hair growth products and taking proper care of your tresses, you can expect healthier-looking, fuller-looking hair in no time.
How To Make Your Hair Grow Faster
Knowing how to grow hair faster starts with using volumising products, sticking to a consistent routine and employing a little patience! While there's no way to magically speed up hair growth, these tips will help you on your way to flaunting longer locks.
How Fast Does Hair Grow?
So, how much does hair grow in a month? While there's no universal answer, our hair tends to grow about half an inch each month (or 6 inches in a year). From our general wellbeing to the products we use, there are several factors that can help to make hair grow longer, stronger and healthier.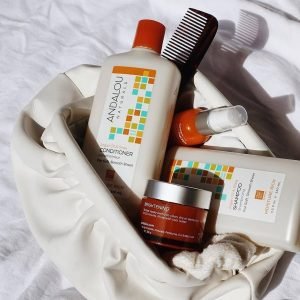 Our Top Hair Growth Tips
While the actual rate of hair growth can't be changed, taking good care of your locks will help to take your hair to new lengths. Thicker tresses appear longer and fuller, while keeping hair healthy minimises the chance of breakages and split ends.
1. Use a hair growth shampoo
The best hair growth products are those that help to strengthen, nourish and protect. While no shampoo can claim to add instant length to your locks, our Argan Stem Cell Age Defying Shampoo contains argan stem cells to help promote stronger strands with less breakage and is enriched with argan oil to help leave hair hydrated and more flexible. The end result? Hair that appears fuller, with greater body and shine.
If your main hair concern is dry and damaged locks, try our Argan Oil & Shea Moisture Rich Shampoo gives. Thirsty hair will appreciate the extra dose of hydration!