Want to know how to get clear skin? The key to a clearer-looking complexion lies in giving your body the nutrients it needs to function and sticking to a gentle yet effective clear skin routine. From how much water to drink to the best nourishing moisturisers, discover how to get clear skin naturally with Andalou. 
Clear Skin Tips: Lifestyle
While the right clear skin products are essential for giving blemish-prone skin the care it needs, there are a few lifestyle changes that anyone who wants to know how to get clear skin can put into practice. 
Are there foods that clear skin?
The food we eat has an impact on our complexion. If your diet contains an excess of foods high in refined sugars and fat, for example, skin can become greasier. So, what should you eat to maintain clear skin?  
Eating a variety of fruits and vegetables ensures that your body is getting all the nutrients it needs to maintain healthy skin. Foods that are rich in omega-3 fatty acids, such as fish, also help to keep skin feeling supple and moisturised, working to reduce inflammation. Vitamins A and E and Zinc are also thought to be beneficial vitamins for clear skin.  
Does water clear skin?
As well as eating a balanced diet, drinking plenty of water is essential for maintaining healthy skin. If you want to know how much water to drink for clear skin, aim for at least 2 litres (or 8 glasses) every day. Water is found in every cell in the body, so staying hydrated not only helps your skin to appear healthier, but also supports the proper functioning of skin cells.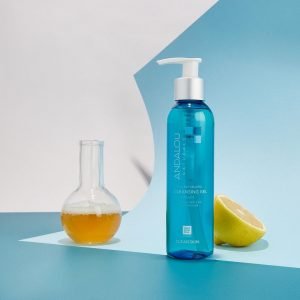 Our Clear Skin Routine
Combining the above clear skin tips with a regular skincare regimen will leave your complexion looking and feeling its best.  
Clear Skin Citrus Kombucha Cleansing Gel
Cleansing is perhaps the most important step when it comes to how to get clear skin, as it sweeps away blemish-causing dirt and impurities. This clear skin face wash is packed with purifying willow bark and kombucha prebiotics to gently whisk away excess oil without dehydrating the skin.