What is hemp oil? Hemp oil for skin is the once controversial ingredient that everyone has an opinion on. No longer taboo, hemp skin care is at last the recipient of some well-earned buzz. Rich in skin-loving proteins, nutrients and minerals, the numerous hemp seed oil benefits for skin epitomise everything we love about the meeting of botanical ingredients with science-backed skincare.
What is hemp oil?
Made with the fibre of the cannabis plant, many people are mistakenly deterred from embracing hemp oil-based skincare. Hemp skin care is entirely legal, as the part of the cannabis plant that delivers controversial side effects is not used. The seeds of the plant (the hemp seeds), unlike the leaves, do not contain THC- the chemical responsible for cannabis' psychological effects.

Hemp skin care: Hemp seed oil benefits for skin
When applied topically, hemp works to deliver moisture to distressed skin, improve the skin's overall function and strengthen its barrier. Organic, pure hemp seed oil, found in our CannaCell collection, is a rich source of proteins, nutrients, minerals and vitamins E, C, B1, B2, B3, and B6. 
These CannaCell Hemp Stem Cells are naturally occurring and extracted from the stalk of the hemp plant. They work to counteract free radicals and can prevent premature ageing of the skin caused by environmental stressors, like oxidative damage, sun exposure and urban pollution. 
Hemp oil for skin: Is it right for me? 
What makes hemp a truly unique natural ingredient is that it's suitable for almost all skin types. Sensitive and blemish-prone skin types can benefit from hemp's natural antibacterial and soothing properties, while those with dry skin will find it improves the skin's ability to retain moisture while improving the skin's natural barrier function.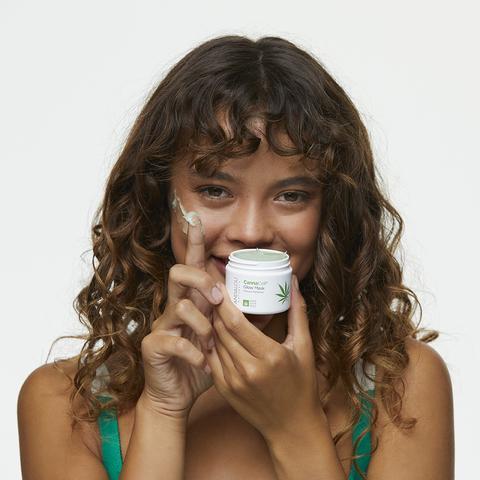 Hemp oil for skin: Our natural hemp skin care products
Powered by hemp oil for skin, our CannaCell range harnesses the nutrient rich and rejuvenating properties of hemp stem cells and combines them with the nourishing qualities and essential fatty acids and vitamins found in hemp seed oil. We've created a collection of hemp skin care that helps to soothe distressed skin and boost the complexion so that the skin can function at its very healthiest. 
This gentle, botanical cleansing foam contains hemp seed oil, CannaCell® hemp stem cells and essential oils to leave you with a clean and radiant-looking complexion.