What is CoQ10 good for? You may already be aware of Coenzyme Q10 (CoQ10) as a supplement and skincare ingredient. But, despite all the promises of better skin and health that you've heard, you're still not entirely sure what it actually is and how CoQ10 benefits skin. 
 
If this sounds like you, you're in the right place. We're here to explain why supplement and skincare brands, like us, use Coenzyme Q10 and why it's so important for the body.
What is CoQ10

?
CoQ10 is a compound made in your mitochondria, the powerhouses of your cells. These tiny organelles are responsible for converting the food you eat and the air you breathe into secondary compounds that provide the energy for your body's tissues to function.
What is COQ10 good for?
CoQ10 plays an important part in the process that produces adenosine triphosphate (ATP), the primary energy source for practically every cell in the body.
CoQ10 levels are usually at their peak when you're younger but deplete over time, which can leave you feeling sluggish and your skin looking less than its best. When your mitochondria have insufficient levels of Coenzyme 10, they can't make as much of the ATP that provides you with energy. This causes pro-ageing signals to be sent to skin cells. 
Why Do Natural CoQ10 Levels Decrease?
While growing older is the primary cause of depletion in CoQ10 production, many other factors contribute to it. These include mitochondrial disease, genetic defects, and nutritional deficiencies (such as insufficient B6). There can also be a correlation between a decrease in production of CoQ10 and statins. Some people can also experience low levels of CoQ10 as a side effect of taking statin medication to lower blood cholesterol.  
Fortunately, you can enhance the levels of CoQ10 in the skin simply by incorporating it into your skincare routine. 
Coenzyme Q10: Benefits for the Skin
Coenzyme Q10 benefits the skin in many ways. Here are just a few of them…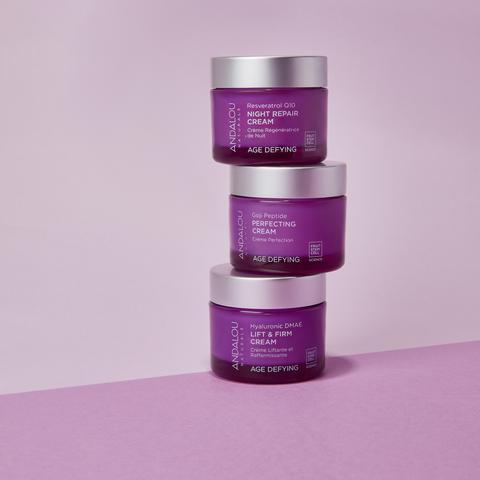 Protects skin
Coenzyme Q10 benefits the skin through multiple mechanisms. Skincare brands like to use CoQ10 in their formulations because of evidence that it protects the skin from the effects of poor diets, hormone imbalances and UV.  
For instance, research shows that CoQ10 benefits skin by reducing oxidative stress following exposure to sunlight and may even be able to reduce the depth of wrinkles.
Evens skin tone
Coenzyme 10 also enhances the quality of skin in general.  
Evidence suggests that it may be able to even out skin tone, giving your complexion a more consistent matte finish. Studies have also shown it to increase the production of elastin and collagen in skin cells, two naturally occurring compounds that help to keep skin supple, soft and youthful. CoQ10 may even be able to replenish old skin cells, reducing overall skin inflammation.
Promotes youthful skin
Because CoQ10 is fundamental to energy production and the health of cells, it offers many more benefits besides those listed here. You can think of it as a regenerative compound, helping your cells behave more youthfully. The best news is that science is still discovering further COQ10 benefits, so watch this space.