An ingredient that takes pride of place in many natural beauty products, argan oil benefits the skin and hair in many ways – and is particularly well known for its hydrating properties. This nourishing oil deserves all the praise it gets, but how do you use argan oil for hair and can you get argan oil shampoo? We're here to answer these argan oil queries and more…
What Is Argan Oil?
Argan oil, or argania spinosa, is a plant oil extracted from the kernels of the argan tree, grown in Morocco. Although commonly used as a dip for bread or drizzled on couscous in its native North Africa, argan oil is most often used in soaps, moisturisers and haircare products, thanks to its deeply hydrating properties.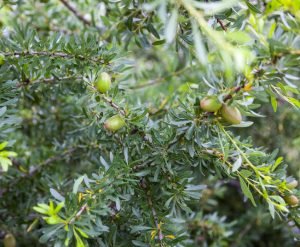 Argan Oil Benefits
Rich in oleic and linoleic fatty acids, argan oil is an excellent moisturiser. Often applied topically and an important natural ingredient in many skin, body and hair care products, it helps to promote hydrated, healthier-looking skin and hair. 
Argan oil is also a source of Vitamin E, a fat-soluble vitamin that is believed to help relieve oxidative damage caused by free radicals. Coenzyme Q10 and melatonin are also found in argan oil, helping to boost its antioxidant properties. 
Our Clear Skin Argan Stem Cell Recovery Cream uses a blend of argan stem cells, aloe vera and willow bark to help calm sensitivity while deeply hydrating the skin.